CUSTOM WOOD PINS
Excellent
★★★★★

15000+ reviews on
- High Quality & Low Price
- No Minimum Quantity & Bulk Order
- Online Design with Free Pins Templates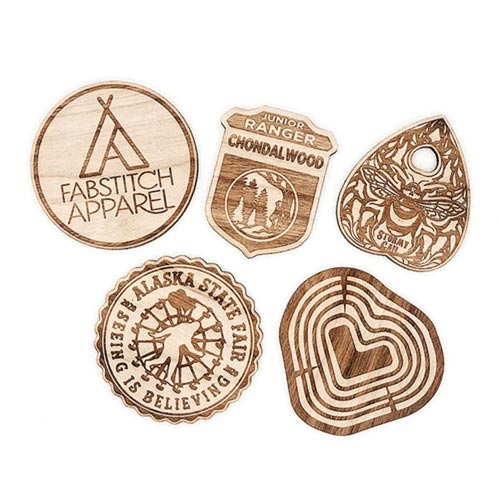 Wooden Pins
Wooden pins are also called laser-engraved custom pins.
They are a great choice that orders custom wooden pins on Pins.US, a professional custom wooden pins manufacturer that specializes in producing eye-catching promotional gifts.
Your logos, trademarks, or designs will be perfectly printed onto our high-level wooden pins with any shape and size according to your request.
As a responsible maker of custom wooden pins, Pins.US devotes itself to providing you with the most favorable factory direct sales at low prices, trying our best to save you more costs.
Wood Pins Attachments
PINS.US offers some attachments of custom wooden pins. All of them will make your wood pins stand out and unique.
Rubber Cap
Butterfly Clutch
Cufflink
Deluxe Clutch
Safety Pin
Magnetic Back
Poly Bag
Velour Pouch
Plastic Box
Velour Box
Custom Wooden Pins We Made
Questions About Wood Pins
Q: How do I make my own wooden pins on Pins.US?
It is convenient to make your own custom wooden pins on our website: STEP1- Start Your Pin Idea; STEP2- Submit Your Pin Order; STEP3- Approve Your Pin Design; STEP4- Receive Your Custom Pins.
Q: What is the point of wooden pins?
Wooden pins are exquisite, portable small pins worn on a hat, bag, and clothing, often on the lapel. Wooden pins can be decorative or indicate the relationship between the wearer and an organization or cause.
Q: Why do people love Wooden pins?
This is because wooden pins are high quality and durable. A wooden pin can accommodate almost any design. As a result, we have customers using them as promotional gifts for business and souvenirs for exhibitions, churches, and museums.
Go Beyond Wood Pins?
Custom Pins: You Think It, We Make It.
Begin to Make My Custom Wood Pins Bulk Online?
#1: Click the button to get a custom pin quote but you need to make some choices. #2: Or design your pins online to make an order but you need to design your wood pins. #3: Email at Info@gs-jj.com.
After we received your custom pin order, our excellent designers will review your design to make it perfect. And we will send an email for you to confirm your pin design. Any design suggestions we will revise it again and again.
After you confirm your artwork, we will notify our professional factory to produce it as soon as possible. Each step will be seriously checked. When all pins are finished, we will arrange the air shipping.